Please vote for us
The 110-million-year-old sea turtle is a bellwether of marine ecosystem health
The 110-million-year-old sea turtle is a bellwether of marine ecosystem health. Where there are healthy wild populations of sea turtles, there are healthy oceans sustaining them. Unfortunately, sea turtles today are highly threatened and their numbers are rapidly diminishing.
Longline fishing, which kills an estimated 40,000 sea turtles annually, along with shrimp trawling, coastal development, ocean pollution, global warming, and hunting, have caused an unprecedented decline in sea turtle populations.
Send a Seaturtel e-postcard: Postcard
Greece Has the Highest Corruption Indices in EU
17 September 2006 | 17:01 | FOCUS News Agency
Athens. Greece has the highest corruption indices according to the charts of all international organizations – from the International Monetary Fund to the World Bank, the Kathimerini newspaper writes. Greece is considered the most corrupted state in the 25-member bloc. Its corruption level is even higher than the one in countries of the third world, such as Chile and Egypt. However, corruption in Greece exists on a social and political level and is not connected to any political party since it flourished during the governments of the socialist PASOK Party and the New Democracy, the newspaper comments.
http://www.focus-fen.net/index.php?id=n96028
---
Airline crackdown on sun-seeking louts
Thomas Cook Airlines adopts zero tolerance policy 05.08.06
A holiday airline has launched a crackdown on rowdy passengers and promised it will operate a 'zero' tolerance policy when it comes to unruly sun-seekers.
Thomas Cook Airlines says its staff have already had to deal with passengers turning up drunk for check-in, making jokes about bombs in luggage, refusing to sit for take-off and smoking in toilets.
However, the airline has taken its hard-line stance following the most serious incident last week when a passenger opened the door of a Boeing 757 as it pulled up at Zakynthos Airport in Greece.The man - who was in a party of 19 young men flying from Manchester to the Greek island - was immediately banned for life from Thomas Cook planes and will be reported to UK police.He was due to fly home on Thursday but had to find an alternative carrier while his 18 friends all received formal warnings from the airline.
'Enough is enough'
A Thomas Cook spokesman said bad behaviour will not be tolerated at any stage of the flying process.


'We are saying enough is enough. We know people are high on summer sprits going on their holiday, but a serious incident could happen. Everyone at the airline wants passengers to have fun, but the reckless few mean many holidaymakers are complaining about misbehaviour.
He added: 'Our Zero Tolerance policy peak summer flying applies from check-in, at the gate and onboard all flights. It will be enforced through refusing travel or diverting aircraft if necessary to protect crew, passengers and aircraft. All offenders will be reported to police and, if evidence can be obtained, brought before the courts

http://www.which.co.uk/reports_and_campaigns/travel_and_leisure/reports/holiday_advice/Thomas_cook_lout_ban_news_article_557_91049.jsp
---
Island Zakynthos in crisis over drunk Brits & oral sex
The Greek tourism minister is to hold emergency talks on the holiday island of Zakynthos on Monday amid outrage at the behaviour of British tourists.
The island's MP, Dimitrios Varvarigos. has called for tourists committing acts of gross indecency to be put on trial and jailed for up to three years.
Those who have gone home should be sent back to Greece for trial, he says.
Bad reputation
The photos splashed across papers last week were taken in the resort of Laganas on the island's south coast, which used to be better known as a nocturnal breeding ground for loggerhead turtles.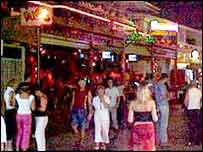 But, over the past two years, it has become a favoured destination for British teenagers in search of sun, sand and cheap alcohol.
The town has seen behaviour including drunken orgies, vomiting in the streets and frequent fights. Police have closed down several of the most notorious nightclubs.

Laganas was formerly noted for its loggerhead turtles
Young Britons already had a bad reputation in Greece after similar behaviour in resorts on the islands of Rhodes and Crete.

The town's deputy mayor, Stavros Papadatos, blamed holiday reps and the Greek proprietors of hundreds of bars and clubs in Laganas for encouraging drunkenness.
"Every night each one of them must make around 1,000 euros (£700) organising pub crawls. It's on those crawls that young British girls and boys appear to lose their minds," he said, according to a report in the Guardian.
Of the tourists shown in the papers committing indecent acts, Mr Varvarigos said: "We're talking about a lot of people.
"As many as possible should be located, extradited if need be, and made to bear the consequences," he insisted.
"Under Greek law that might mean prison sentences of two or three years."
http://news.bbc.co.uk/2/hi/uk_news/4189154.stm
---
Flights from Australia to Zakynthos for 179.- AU$ 179.-
Europe by Air adds another airline to its extensive Flightpass
Aero Flight (GV) has now joined the Europe by Air programme offering flights from 6 major German cities to destinations primarily in the Mediterranean, plus St Petersburg.
Bill Wolf, President of Europe by Air, states, "Aero Flight's routes between Germany and Russia, Italy, Spain, Greece and Bosnia will allow our travellers to reach the far corners of Europe quickly, easily and inexpensively". You can now fly non-stop on any of more than 800 flights across Europe for as little as AU$179.00.
Based in the gateway city of Frankfurt, Aero Flight provides scheduled services to and from Alicante, Catania, Karpathos, Corfu, Kos, Mykonos, Palma de Mallorca, Sarajevo, St. Petersburg and Zakynthos. Services from Berlin, Dusseldorf, Munich, Hamburg and Stuttgart are also available to many of the same destinations and also to Rhodes and Santorini.
The list of available city pairs has been updated to reflect these additional flights. Log onto our new Australian website www.europebyair.com.au to view our interactive map and see the complete list of city pairs available.
The addition of Aero Flight to Europe by Air not only expands the route network of the pass but allows passengers to travel on the most modern fleet of Airbus aircraft in Europe.
Partner companies participating in the FlightPass currently include:
| | | |
| --- | --- | --- |
| Aegean | Aero Flight | Aerolineas Argentinas |
| Air Lithuania | Air Luxor | Air One |
| Air Plus Comet | Alpi Eagles | Aurigny |
| SN Brussels Airlines | Cirrus Airlines | Croatia Airlines |
| DBA (DeutscheBA) | Denim Airways | Estonian Air |
| European Air Express | Eurostar | LAN |
| Lithuanian Airlines | Monarch | PGA Portugalia |
| Virgin Express | VLM | Welcome Air |
The Europe by Air FlightPass is a flexible airpass with no blackout dates or no fare zones and is valid for 120 days. Flights can be pre-booked (recommended) or left open to use along the way, with applicable taxes simply paid at check in. Refer to the www.europebyair.com.au for full details.
---
Holiday hell for Limerick sun-seekers

LIMERICK holidaymakers, who were stranded for more than 25 hours at a tiny airport on the Greek island of Zakynthos say that "it was a nightmare end to a dream holiday".

The 200 disgruntled passengers from Limerick and Cork finally arrived home to Cork airport on Monday morning.

And one Limerick girl, who bought her package holiday from Limerick Travel said that most of the passengers on the Cork to Zakynthos flight now plan to take action against tour operator, Panorama.

The Annacotty girl said that their flight back to Cork was at 4am, and they were exhausted anyway as they were flying in the middle of the night. But this was only the beginning of a 25 hour ordeal for the holidaymakers, which involved "a scarcity of food and drink, exhaustion and finally being put up in a nightclub hotel".

"The worst part of it was just constantly being lied to," said the holidaymaker who said she was too embarressed to be named. "Originally we were told that there was going to be a two and a half hour delay because the plane wasn't able to take off in Cork because of mist. But there ended up being major delays on this flight and we were never informed. The reps just kept fobbing us off. They even ran away at one stage because they were too scared to tell us that the flight was delayed again," she said.

After being told that their plane would "definitely be there at 1pm", the passengers were then informed that their plane had been diverted to Athens "because there was no room for it to land".

"The English reps were just totally incompetent and they kept lying to us. It got to the stage where we didn't know if we would ever get home. There were hardly any seats in the cramped airport and there were loads of families with young children and babies. One pregnant woman just freaked out at the reps at one stage. It was almost like a riot; people were screaming and breaking down crying and cursing at the reps because they were just so exhausted and hungry. The worst thing was that many people didn't even have any money left from the end of their holidays and the prices were just extortionate at the airport," she said.

She said that "all war broke loose" when they were later "kicked out of the airport into the blistering heat because there was no room for them to remain in the departures lounge".

"We were left out in heat for more than two hours because the airport was packed. After demanding water, the reps finally brought out a large container, but they told us we had to show our tickets before getting it. They were literally guarding it. One man just lost it, saying we had been there for more than 12 hours and they knew well who we were at this stage. He said that we were being treated like animals and that "we may be Irish but were not stupid and how dare they make fools of us".

He then said that nobody was to show their tickets as a protest. Eventually some children passed his so called picket line to get water, because the parents were too embarrassed to pass him."

Adding to their discomfort, she said that there were "loads of feral cats and dogs lurking around the airport outside".

Concerns were then voiced amongst the holiday makers that the pilot and crew may run out of flight hours. The Annacotty girl said that the reps were constantly asked if this was a possibility. And both the reps and eventually the head rep from Panorama assured the passengers that the pilot had plenty of flying hours left and that they would definitely be flying at 6pm that evening.

"At 6.30pm we became suspicious and noticed that all the Panorama reps had vanished. We later found out that they had left the airport to go to their offices, because they didn't know what to say to us. Eventually this new rep that we hadn't seen before came to calm us down an hour or so later, but she still didn't have any news."

At 9pm that night, the exhausted holidaymakers were finally told that they were being put up in a hotel in the party resort of Laganas, because the flight crew had in fact ran out of flying hours.

Most of the group had been staying in the quieter resorts of Kalamaki or Tsivili. And she said that many of the families were shocked when they "basically pulled up in front of a nightclub".

"The hotel we were booked into had disco bars on both sides of it and a nightclub below it. One woman said that there was no way that she was staying in this place with her children, as there were girls wearing half nothing all over the place. At this stage the rep said that she could sleep in the bus if it didn't suit her. They were just so rude and didn't give a damn about us," she said.

"Most of the holiday makers didn't get any sleep that night because the hotel was throbbing with the beat of the nightclub and there was also no hot water in the hotel. But the final straw came the next morning when we were en route to the airport at 6am. Someone from the bus noticed luggage strewn all over the road and it transpired that the reps had forgotten to close the boot of the bus. It was just like a comedy. And when people started giving out, the reps told us to keep quite as they didn't 'appreciate the comments from the back of the bus'," she said.

The passengers were all stranded in the plane on the runway for another hour before being authorised to leave.

"And despite constant promises that we would be getting breakfast at the airport or on the plane that morning, we ended up getting nothing. The air hostesses on the flight home said that they had been told nothing about breakfast. Children were literally screaming for food," she said.

The Annacotty girl concluded by saying that the reps were not one bit apologetic, and "were just totally unprofessional in the way they dealt with the situation".

Other flight delays occurred last weekend when Irish holidaymakers were stranded for 24 hours in Malaga, Spain. And passengers were also stranded in Cork for nearly 12 hours before their flight to Spain took off.

The delays have centred on Shannon-based new charter company Eirjet. Eirjet does contract work for travel companies such as Panorama and Falcon holidays and concerns have been expressed that the small operation does not have large numbers of aircraft at its disposal.

Panorama, tour operators for the Zakynthos flight told the Limerick Post the return journey to Cork was delayed because the Eirjet crew had gone over their flight-hour limitations and needed rest. They also apologised for the "unprecedented and unfortunate delays".
---
British tourists blamed for damage to turtles' haven
By Steve Bird and John Carr in Athens
FOR thousands of young British tourists, the white sandy beaches and turquoise waters of the Ionian island of Zakynthos are the perfect setting for revelry and holiday romance. Each summer the coastline is transformed into an adult playground as tourists hold late-night beach parties before dancing in the clubs and bars.
Their antics, though, are threatening the survival of the loggerhead turtle, which has, since time immemorial, relied on the once tranquil coastline to complete its rather more sedate breeding pattern.
Now the European Commission is taking the Greek Government to court for failing to protect the unique habitat from the 200,000 British holidaymakers who visit the island each year.
A month after his appointment, Stavros Dimas, the EU Environment Commissioner, has threatened to impose a hefty daily fine on his country for failing to safeguard the environment needed for the turtle, known as the Caretta caretta, to thrive. He is awaiting a full written response from Greece about what it will do to save the turtles' breeding grounds.
A European Court judgment three years ago condemned Greece for not protecting the breeding grounds, particularly at Zakynthos's Laganas Bay.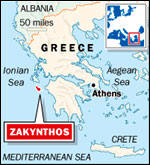 The noise from beach parties and nightclubs is preventing turtles from crawling on to the sands to bury their eggs. Instead, many are releasing their eggs in the sea, where they will not hatch.
Those that do venture on to the beach guarantee their offspring only limited odds of survival. Some eggs are smashed as the sand is churned up by beach buggies, dug into by children or pierced by spikes from parasols.
The hatchlings that emerge after neary two months face further perils. Because the turtles rely on shimmering moonlight to guide their scamper to the sea, many are becoming disorientated by neon lights from nightlife and so head in the opposite direction, invariably to their deaths on busy roads.
So great was the concern for the survival of the species that the World Wildlife Fund (WWF) launched a campaign urging people to write to the Greek Prime Minister to express their concerns.
"A total of 11,000 e-mails were sent to the Greek Government," Dr Susan Lieberman, Director of Species at WWF, said. "We are delighted that the EU has taken such decisive action against the Greek Government and now hope this will force it to finally act to protect the habitat of these endangered turtles.
"It is simply not acceptable that beaches once protected for turtles are now the domain of sunbathers, swimmers and ice cream vendors."
Environmental campaigners in Greece are less optimistic.
"The situation at this stage could not be worse," Lily Venizelos, president of the Mediterranean League for the Protection of Sea Turtles, said. She has been battling the political and tourism establishments for more than 20 years. The European Commission gave Greece a December deadline to answer charges that it was reneging on a promise to spend €90,000 (£60,000) on a protected environmental park at Laganas Bay. "An answer was supposedly given," Vasilis Kouroutos, the league's secretary said, "but we never saw a draft. Even now we don't know what's in it. The Government gives us a thousand excuses and nothing else."
MARINE MIGRANTS
· Zakynthos is one of the last and most important nesting areas in the Mediterranean for the loggerhead turtle
· In summer up to 900 turtles lay eggs on the southern beaches of Laganas, Gerakas, Sekania, Dafni, Kalamaki and Marathonisi
· The male turtle never leaves the sea
· Females return to the same beach 30 years later. Only one in a thousand will reach the reproductive age of 30
·
Loggerheads are highly migratory and make some of the longest journeys of all marine turtle species
Quelle: http://travel.timesonline.co.uk/article/0,,10295-1474696,00.html
---
Disco Cameo at Ag. Sostis-Porto Koukla and the horror for Caretta-Caretta
Experiences of a special kind on Zakynthos.
The small island off the coast of Agios Sostis - Porto Koukla is home to the wildest disco of Zakynthos, a fact which we were able to realize on our vacation to Zakynthos this year. Like every year, we made a trip to the nice tortoise island "Marathonisi" and could not believe, how it could be possible that a protected space has to suffer under the wildest disco music, the island of Marathonisi is at a distance of 7 to 8 kilometres.
As we like to go hiking, we often walk as far as the southernmost part of the island of Marathia-Keri, where also a hotel complex is situated. While walking there, we were able to see why so many rats crossed our way,
a large pile of trash, but there is a nice view all over the bay. Even from that part,the disco could be heard, although it was 10-12 kilometres away, how do the guests like it there? We are unable to understand that permits are granted by the authorities of Zakynthos for such sound installations with this sound intensity (audio installations are prohibited in this area). For many years millions have been spent by the EU to protect the bay of Laganas and other parts of Zakynthos. What we saw were tourists being shipped by motor boats, who then trampeled the protected areas of the beach. Last year at least members of the WWF were there, who took care that the people did not get too near to the nests, this year these people were not there. What we saw there, lets us doubt the usefulness of the millions given to Greece to protect the Caretta-Caretta. Luckily, there are still other islands which take the wish of tourists to find peace and quiet more seariously.
Hubert Sterner – Liechtenstein
Email: letter@zakynthos.at
---
Christmas Customs of Greece
Ah, it's kourabiedes time again, and the mellow aroma of melomacarona cookies will soon be filling Greek kitchens
For the traveller to Greece, remember that many offices, businesses, restaurants, and other amenities may be closed or keeping unusual hours during the Christmas season. Turkeys have invaded Greek Christmas customs, and so travellers from the U.S. will find this bird prepared for Christmas feasting. In some areas, the holiday is preceded by a time of fasting. For Greece, the season is in full swing by December 6th, the Feast of St. Nicholas, when presents are exchanged, and will last through January 6th, the Feast of Epiphany.
In general, don't expect Christmas displays, lights, or other Western decorations, except of course in the windows of expatriates and the relatively few Greeks who have adopted Western customs. Greece is an oasis of non-commercialism when it comes to Christmas.
Christmas in Greece is a traditionally a solemn, religious holiday. Throughout the festivities, there is never any question about whether Greece is remembering the Christ in Christmas. Beautiful carols called kalandas have been handed down from Byzantine times and add to the reverent quality of the celebration. And can the remote Greek villages, with whitewashed walls, stone corrals for the precious livestock, and clear starry skies be very far in spirit from a night in long ago Bethlehem?
While other cultures have Christmas elves, the Greek equivalent is not so benign. Mischievous and even dangerous sprites called the Kallikantzari (or Callicantzari), prey upon people only during the twelve days of Christmas, between Christmas itself and Epiphany on January 6th. Descriptions of them vary, and in one area they are believed to wear wooden or iron boots, the better to kick people, while other areas insist that they are hooved, not booted. Almost invariably male, other regions see in them the forms of wolves or even monkeys. In folktales, the twelve days of their power figure in a "wicked stepmother" story where a young girl is forced to walk alone to a mill through the twelve days, because her stepmother is hoping that the Kallikantzari will snatch her away.
Some households keep fires burning through the twelve days, to keep the spirits from entering by the chimney, a curious inversion of the visit of Santa Claus in other countries! The "yule log" in this case used to be a massive log set on end in the chimney, burning or at least smouldering for the entire period.Protective herbs such as hyssop, thistle, and asparagus were suspended by the fireplace, to keep the Callicantzari away. Other households, perhaps less devout, were reduced to simple bribery and would put meat out for the Kallikantzari - again, this seems to be a more substantial snack than the milk and cookies put out for Santa. On Epiphany, the ceremonial blessing of the waters by the local priest was believed to settle the nasty creatures until the next year. Some local festivals still include representations of these entities, which may be a survival from Dionysian festivals.
More links on the Greek celebration of Christmas:
A Greek Christmas
http://gogreece.about.com/cs/agreekchristmas/l/aa110298.htm
---
Greece Taken to Court over British Tourists

By Geoff Meade, PA Europe Editor, in Brussels


Greece is being taken to court by the European Commission – for failing to protect rare sea turtles against UK holidaymakers.

Young tourists out for a good time on the Greek island of Zakynthos have been blamed for destroying the breeding grounds of the loggerhead sea turtle.

About 200,000 visitors from the UK choose the island as their annual get-away holiday playground for sand, sea and sex.

Many party all night at the popular resort of Laganas Bay, drawn by the noisy nightlife at bars, restaurants and seafront hotels.

But now, less than a month after his appointment, the new Greek EU environment Commissioner Stavros Dimas is taking his own country to court for risking the extinction of one of the world's most endangered species.

A European Court judgment three years ago condemned Greece for not doing enough to protect vital breeding grounds around the Ionian Islands, particularly the renowned turtle breeding site at Laganas Bay.

The judges said Greece had breached EU rules on conserving natural habitats "by failing to take the requisite measures of strict protection for the sea turtle Caretta caretta on Zakynthos so as to avoid any disturbance of the species during its breeding period and any activity which might bring about deterioration or destruction of its breeding sites".

Today, in a written Parliamentary answer to Liberal Democrat MEP Chris Davies, Mr Dimas revealed he is already pursuing the Greek government with more legal action and the threat of hefty fines for failing to comply with that judgement.

Mr Davies said: "It's good that Dimas is getting tough. He's got an uphill battle to prove that he is serious about the environment and determined to enforce laws intended to safeguard it. But the EU moves slowly and unless we get action fast there will be no loggerhead turtles left to protect."

Greece was the first EU country ever to be penalised for failing to comply with environmental legislation, being forced in 1999 to pay 20,000 euros a day for the five months it took the authorities to curb pollution from a waste tip on Crete fouling the Mediterranean Sea.

And last week it was revealed that Greece is the only EU country which has not submitted to Brussels national emissions programmes as required for participation in a new emissions scheme due in force on January 1.

Stories of late-night revellers roaming the beach at Laganas Bay, deterring pregnant female turtles from coming ashore to lay eggs, have alarmed conservationists. They have warned failure to control tourism could lead to the turtles' extinction.

The Greek authorities once supplied 24-hour wardens to protect the site, but now there are no controls, and visitors do not heed the warnings of locals.

In his written reply Mr Dimas said: In the light of the information provided by non-governmental organisations and the findings of its visits to Greece, the Commission, within the limits of its powers, will take all appropriate measures to ensure the correct application of Community environmental legislation."
http://news.scotsman.com/latest.cfm?id=3887099
---
Racist attacks in Greece
von anarh - 06.09.2004 14:51
racist attacks all over Greece after footbal game in Tirana
After greek national team loosed 1-2 with Albania on Saturday in Tirana,all over Greece swept wave of racist aggression:on island of Zakynthos an greek-american(called by liberal newspaper"Eleftherotypia" :"a hothead")stabbed till death 20-year old Albanian and injured another 2,in Thessaloniki some 150 crowd of neo-nazi "Hrisi Avgi"group and their friends attacked celebrating Albanians with bottles and stones,trashing their cars,in Athens also fights broken up and in many other cities other incidents happened,where many Albanians had to be hospitalized.(pictures to see on athenian and thessaloniki indymedia).In some cases police cooperated more or less dicreetly with racist mob.
Some major politicians condemned the violence on ...both sides(reminding that "hooligan acts"occured also in Tirana),while more nationalist massmedia described celebrating albanian fans on greek streets as "antihellenic delirium" and prefect of Thessaloniki, Psomanidis found this occasion as great to notice that Albanians are "open wound" for Greece.
There is around 1 million of Albanians living in Greece,being largest and in that same time most hated ethnic minority.
Surely unincidentally ,also today massmedia reported that new detention center for immigrants build near Filakio on turkish border would be open in January http://de.indymedia.org/2004/09/92374.shtml
ATHENS (AP) - A Greek-American man was arrested early Sunday for allegedly stabbing to death an Albanian man and critically injuring two more in a violent aftermath to the Greece-Albania World Cup qualifying match the day before.
Albania upset European champion Greece 2-1 in Tirana.
The 22-year-old man, identified as Panagiotis Kladis-Xifitas from Chicago, is suspected of stabbing to death a 20-year-old Albanian on the Ionian island of Zakynthos. Two more Albanians critically injured in the incident were hospitalized with knife wounds.
The suspect was to appear before a public prosecutor late Sunday.
---
Turtles pay a high price for Olympics
By Harry de Quetteville in Zakynthos
(Filed: 08/07/2004)
The endangered loggerhead turtle has lost its most important sanctuary in the Mediterranean after the Greek government forced the closure of a marine park by diverting funds to the Olympic Games.
Government economists privately admit that the Olympics are acting like a cash sponge in Greece, and while summer sportsmen are promised state-of-the-art venues, the country is cutting other costs to balance its books.
The beaches of Zakynthos Marine National Park were previously under 24-hour guard during the nesting season from May to August. But the eight staff and 36 wardens have not been paid for almost a year after the Greek ministry of environment and public works, which is responsible for both the park and much Olympic building work, cut all its funds.
"The government says that it has not renewed the salaries of park employees because it is spending all its money on the Olympics," said Kostas Grimanis, a spokesman for the Sea Turtle Protection Society of Greece, known as Archelon.
Volunteers, including several Britons, have taken up many of the duties of absent park wardens since May. They say that local tourism bosses have begun aggressively expanding their businesses, moving in to exploit the beaches that were once the preserve of the turtles.
Last year more than 1,200 loggerhead nests were recorded in the park. So far this year, about 450 have been noted, with some sites formerly popular with the turtles now barren.
---

Abandoned Cher set to join Sonny in UK
By Kris Hall
ANIMAL lovers Susan and Celia Gaines went on holiday to Greece to see loggerhead turtles, native to the island of Zakynthos.But it was a bedraggled stray dog that won the hearts of the travelling mother and daughter - and months on arrangements have been made to bring their new friend back to south Bucks.Susan, of Bishopstone, near Aylesbury, said: "After settling in we went for a walk around the surroundings. Relaxing by the pool Mum noticed a stray dog wandering around."Each day we saw the dog who we named Cher. She was very thin, unsteady on her feet and so hungry it was trying to eat some paper. It pulled at my heartstrings straight away."Where others may have simply ignored the pooch's plight Susan and Celia did the opposite, seeking out an animal welfare group on the island.The couple saved food from the hotel breakfast and evening meal and kept Cher well fed and watered, and island volunteer Beryl came to examine her.Tests revealed the mongrel was malnourished, had distemper affecting her sight and to top it off was pregnant with eight pups - which were put down to save her.Susan added: "Our flight home was full of talk about Cher. In the care of Beryl and her husband, Cher began to get better, putting on weight and even wagging her tail."Now healthier and rid of disease Cher is preparing for a 1,000 mile trip back to Bishopstone to be reunited with her new loving owners.Celia, added: "We've already got a dog called Sonny so they will make a right pair. It's horrible to see such beautiful animals so badly neglected."An English couple drive to Zakynthos twice a year to help Beryl in her work. Next time they've offered to bring Cher back. She is being chauffeured to England."Animal welfare organisations in south Bucks have commended the actions of mother and daughter.
A RSPCA spokesman said: "The lengths this couple have gone through to improve the life of one dog is amazing. They have set a great example."
---
---
Please vote for us