.
First CatCam Zakynthos - Greece
Time in Greece:

Our Marathia Cats gang is monitored for their safety-food with 7 ( 5 are public ) cams - Visit "Island cat weather" and more on www.zantecam.gr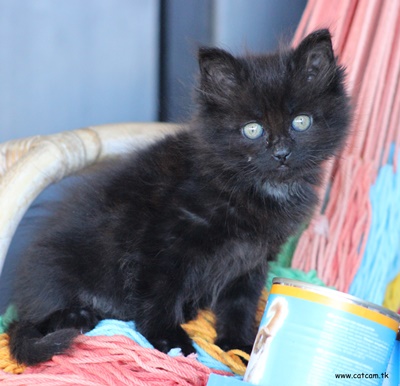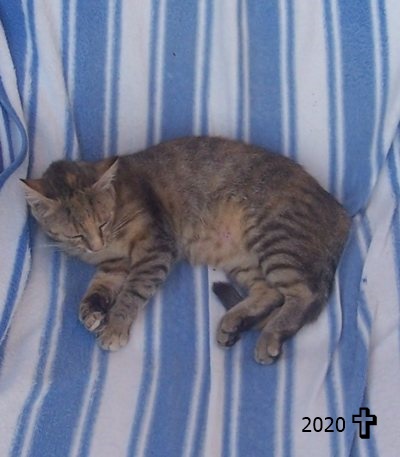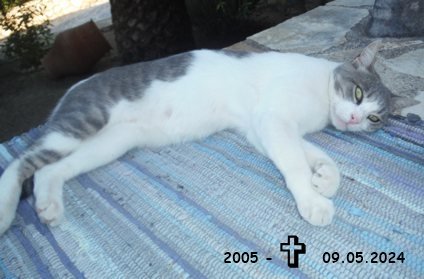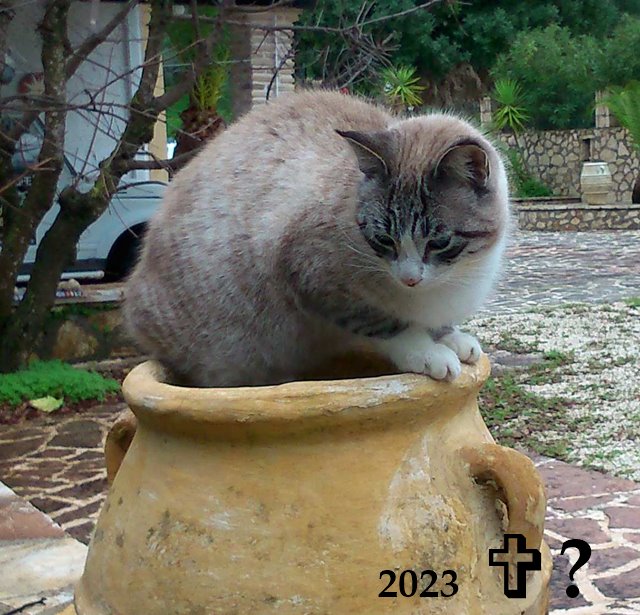 Cats on Facebook: www.facebook.com/catsfromzakynthos/
---
Da im Sommer unsere Katzen immer auf Mäusejagd sind, ist die CatCam nur Oktober bis Anfang ????? online!!
www.catcam.gr and www.zakynthos.at/catcam/catcam.php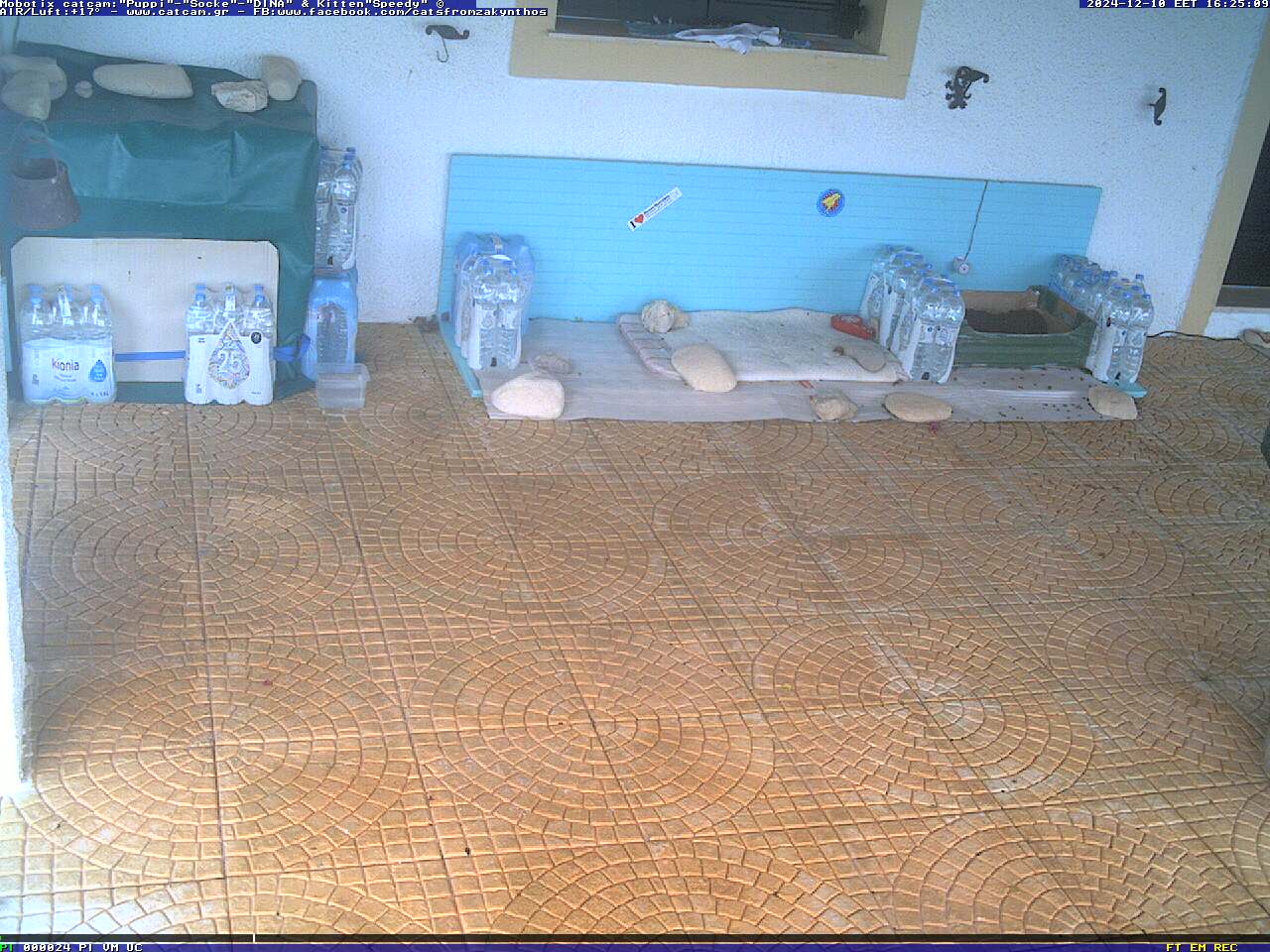 Cam 1 Live picture 1 - Oktober - May/June - update every 30 - 60 Sec
Cam 2 Live Nord
Sorry, our second CatCam is out of service
If the webcam image not fully loaded, please reload the page
---
Summertime out of service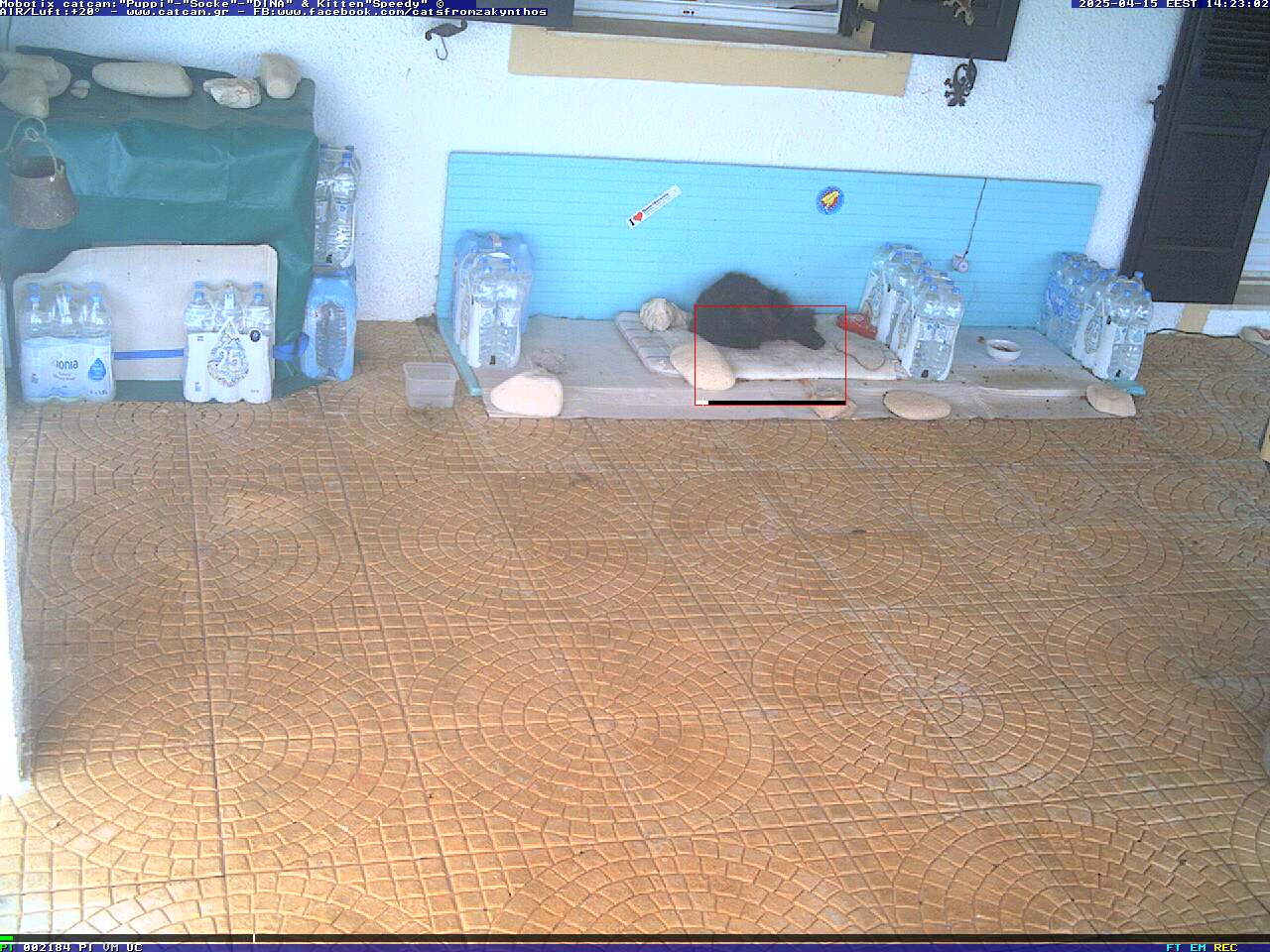 Cam 1 picture 2 - "Ereignis-Bewegung" - Hier finden Sie mit Glück eine von der Katzenbande oder etwas "anderes" :-)
With luck you will find one of the cat gang or something else :-)
---
---
WANTED !!
Wer kennt diese Futter Hosen Räuber, zweckdienliche Hinweise an catcam(at)zakynthos.at- Die Diebe wurden bereits ausgeforscht, danke für die zahlreichen Hinweise :-)
Die Futterräuber konnten eruiert werden, es sind die Hunde eines ca. 300 Meter entfernten Bewohners :-)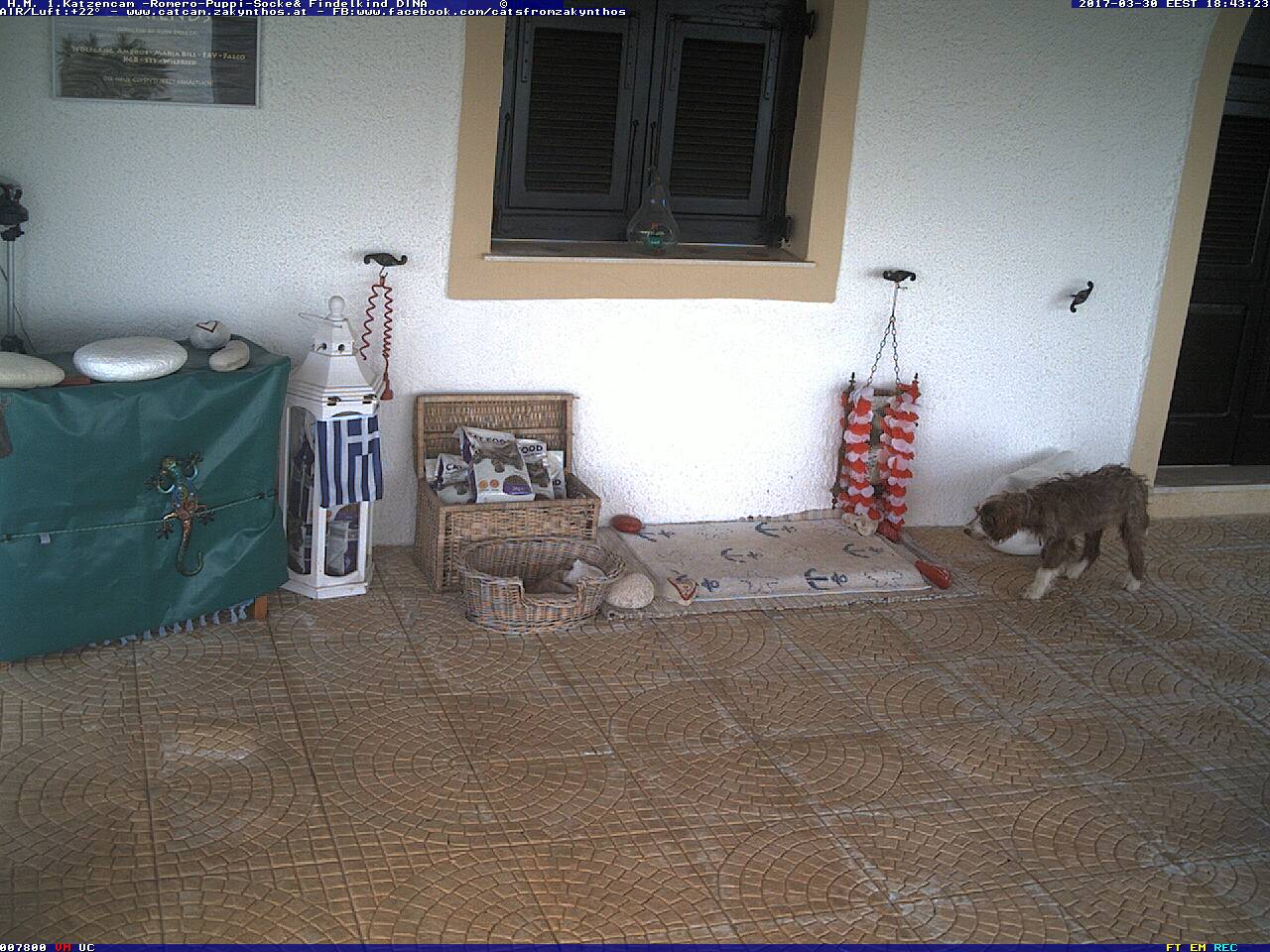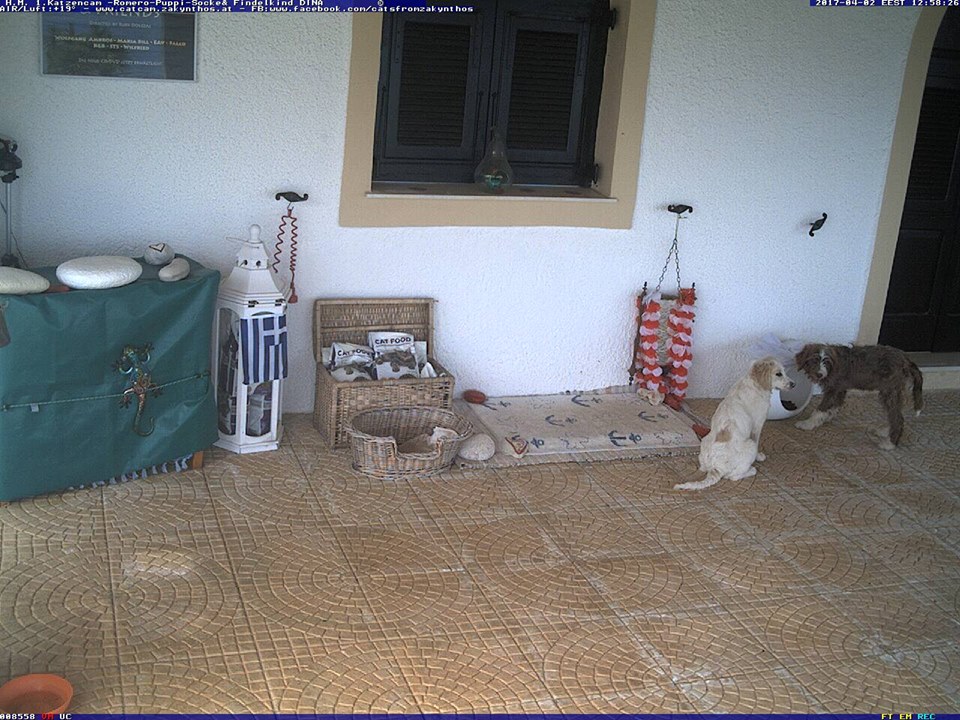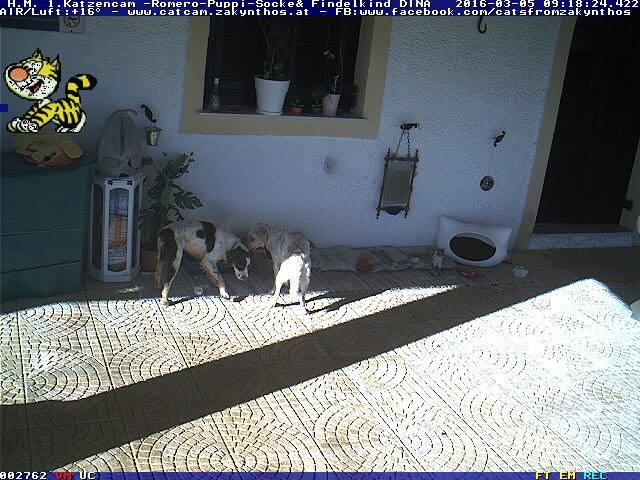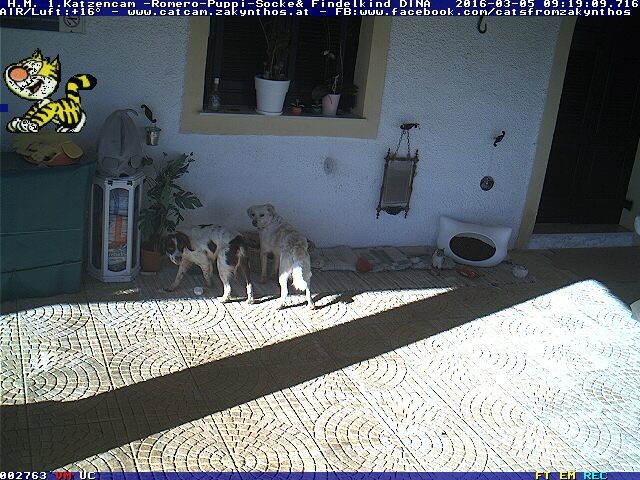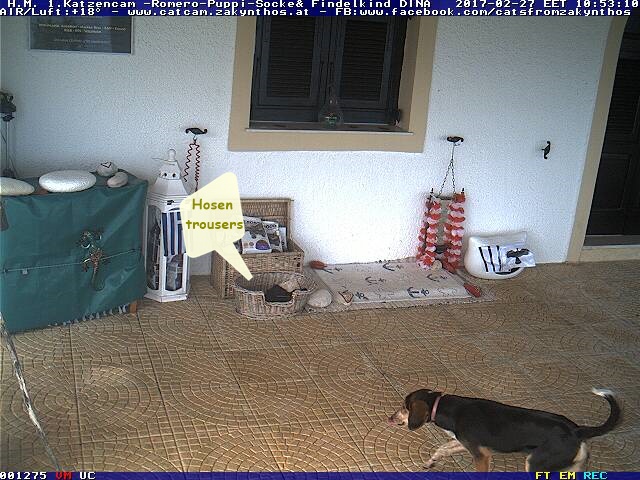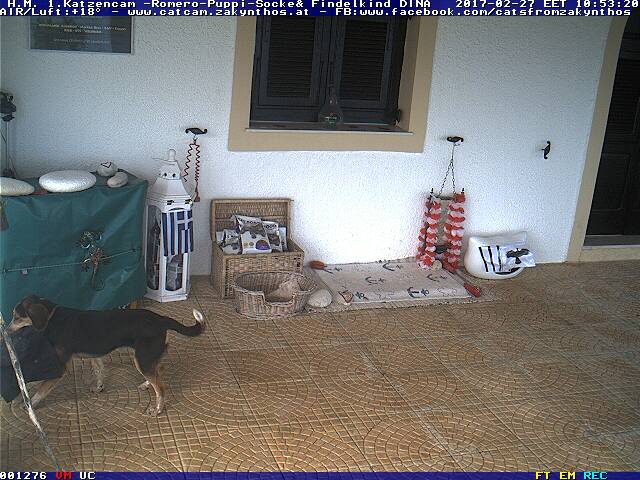 ---
Besucht uns auch auf Facebook und teilt unsere Catcam Seite: MIAU
Für alle Katzenfreunde und die es noch werden.
Unterstützt von Zantecam & House Marathia.
---
Da wir unsere zugelaufenen 3 Marathia-Katzen gut über den Winter bringen möchten, haben wir eine Mobotix-"CatCam" installiert. Diese zeigt den Katzen-Futter-Spiel-Schlafplatz und wenn notwendig, wird mit Freundes-Nachbarns Hilfe, für Futter-Nachschub gesorgt.
Alle 4 Marathia Katzen sind kastriert und werden von der besten Tierärztin aus Österreich "Marion O.", wenn notwendig, behandelt.
NEU: Seit Dezember 2013 gibt einen zusätzlichen Dauergast-Besucher im Haus Marathia "Socke" sie wurde von der Katzenbande herzlich aufgenommen :-) - zum fressen kommt auch eine neue Tigerkatze, diese ist aber nicht sehr beliebt bei den "Ansässigen" und zieht es lieber vor nach den fressen das Weite zu suchen.

Die CatCam zeigt:
Bild 1.)
Bild zeigt ein Live Bild, update ca. alle 30 Sekunden
Bild 2
& 3.)
Die CatCam reagiert automatisch auf Bewegung, sobald wir Cat`s in den Messbereich kommen, sendet die CatCam unser Bild auf den Server.
---
Banküberweisung: Zakynthos Katzen IBAN: AT761420020011871080 Swift/Bic: EASYATW1
Überweisungsgrund:Cat-Zakynthos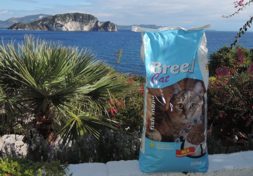 Jede Spende kommt direkt den hilfsbedürftigen Katzen auf Zakynthos zugute
Tipps-Anregungen- sende uns eine Email: catcam(at)zakynthos.at
---

Click us on facebook and share our CatCam-site MIAU
For all those who already love cats passionately
But also for those who maybe will do so some day
We want to winter our four Marathia stray-cats under cosy and snug conditions and so we installed a Mobotix CatCam, which shows the place where they'll play, sleep and find food. If ever it should become necessary in the dead of winter, our friends and neighbours will care for extra food supply.
Since December 2013 we've got another permanent 'resident' in House Marathia; she's called 'Socke'; she was welcomed quite fervently by the three 'regulars' and from then on they've formed a homogeneous gang of four. In the summer of 2014 it somehow turned out, that 'Socke' is a tomcat from the bottom of 'her' heart! This is why our two, true females 'Puppi' and 'Dina' sometimes ask themselves, if the tomcats 'Romero' and 'Socke' might be looking for trouble – or vice versa.
There's also a fifth cat, a mouse-catching tiger cat, roaming around and enjoying the food offered for free on the terrace; as the four 'permanents' don't really like her, she prefers leaving after her meals before trouble is ahead.
'Romero' and Socke' are castrated, 'Puppi' and 'Dina' got sterilized, and the four are taken care of – if need be - by one of the most outstanding veterinarians - Marion Oppel from Austria.
The CatCam shows:
Frame 1:
The CatCam's inbuilt passive infrared detector registers the cats' movements within a certain space and sends the current frames to the respective server.
Bank transfer: Zakynthos Katzen
IBAN: AT761420020011871080 - Swift/Bic: EASYATW1 - Reference: Cat Zakynthos
Please spare a small donation! It will directly reach the cats in need on the island – except the four H. M. cats, as their supply is guaranteed by House Marathia.
Make a suggestion or give us a tip and send an e-mail to: catcam(at)zakynthos.at
HM HC
House Marathia a Home for Cats
Translation: Hanns Jahn - Thank you!
---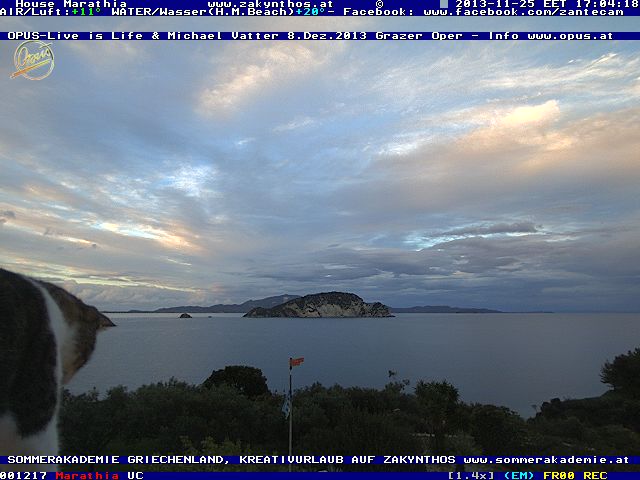 Unser neuer Bewohner Miss "Speedy"wurde im September 2018 geboren und bereichert unsere Katzenfamilie seit Mitte Oktober 2018.
Our new resident Miss "Speedy" was born in September 2018 and enriches our cat family since mid-October 2018.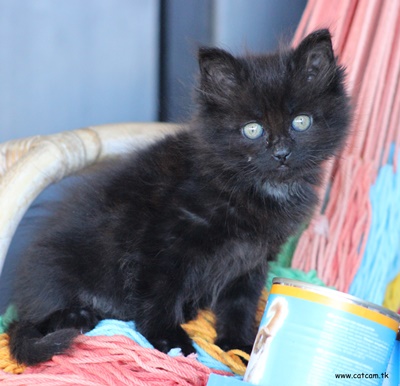 "ROMERO" We have missed Romero since 2017 :-(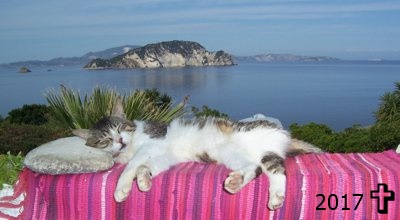 "DINA" is missing since July 2020 :-(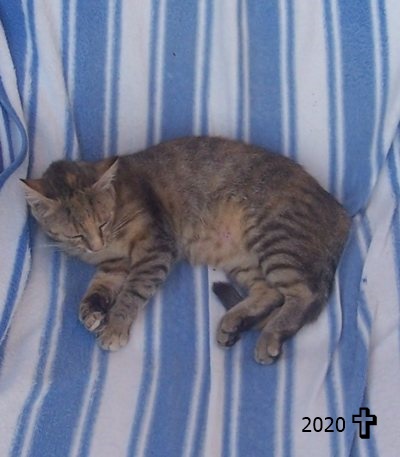 Crazy -Sweet Cat "Puppi"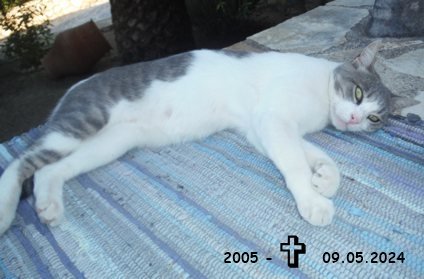 Zugelaufen 2013 "Socke"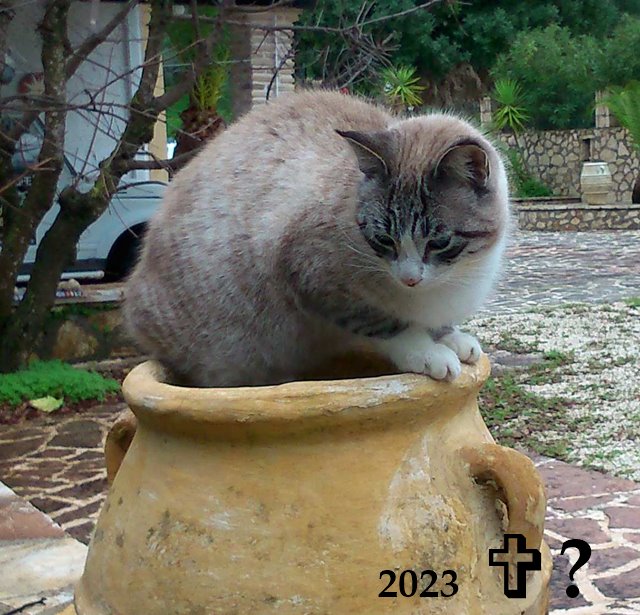 ---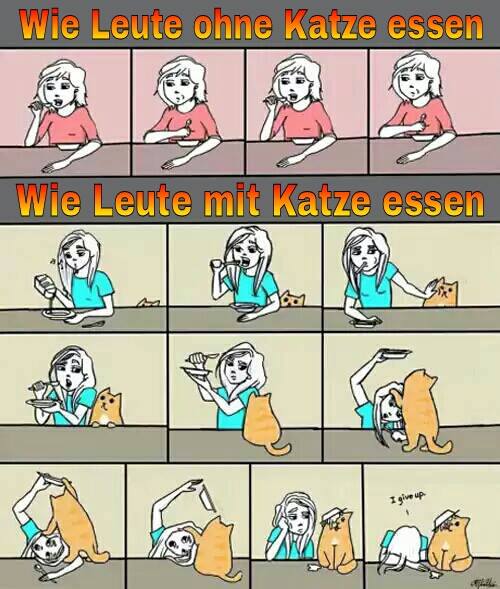 ---
Einverständniserklärung
Vorname des Vaters: "Romero"
Nachname: Vermehrer
Mutter: "Puppi"
Kitten oder Baby: "Dina"
Überwiegend wohnhaft in:
Marathia-Naturschutzgebiet, Zakynthos-Greece
Hiermit erkläre ich mich als Ehe-Kater / Ehe-Katze und Erziehungsberechtigte der oben genannten – Tochter/Baby und Schülerin "DINA" damit einverstanden, dass unsere Familie rund um die Uhr elektronisch beaufsichtigt werden kann und unser Leben im Internet beobachtet werden darf. Mir/uns ist bewusst, dass somit jedermann auf die dort veröffentlichten Bilder Zugriff hat. Ferner ist mir/uns auch bewusst, dass jeder Betrachter die Inhalte dieser Internetseite und somit auch die Bilder nach eigenem Ermessen nutzen kann, auch missbräuchlich, ohne dass dies überwacht, beschränkt oder verhindert werden kann. Aus der Zustimmung zur Veröffentlichung leite ich keine Rechte, wie zum Beispiel eines auf Mäusebeute-Ablieferung ab.
Mir/uns ist ebenso bekannt, dass ich diese Einverständniserklärung jederzeit schriftlich oder durch Wohnungswechsel - Widerrufen kann.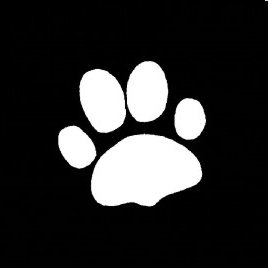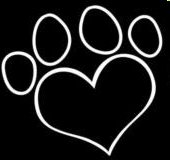 Romero der Vermehrer Puppi
Unterschrift: Katzen Vater Unterschrift Katzen Mutter
Datum: __Oktober 2013 - Marathia - Zakynthos_____________
---
Zakynthos-Greece-Griechenland - House Marathia only for friends
Greece - Greece - Greece - Greece - Greece - Greece - Greece