Welcome by our Tavernen Guide
from Zakinthos-Marathia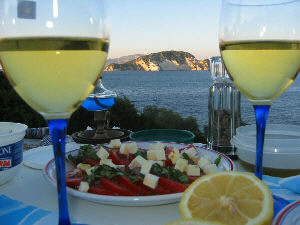 With this site we would like to provide you with a culinary foretaste and tips concerning the choice of taverns.
We, as inhabitants could however be biased, therefore we have asked our guests to help us look for the most pleasant and most traditional taverns, because our guests are the ones who have to visit these taverns daily and it is their satisfaction that counts. We will expand this site and should you come across a tavern which you consider worth of being included in the category "The most popular taverns", we ask you to let us have an account of your experience. Our gusts have graded the taverns according to the following aspects:
*) cosy atmosphere - ambience
*) quality and selection of meals
*) cleanliness (restroom - kitchen - staff)
*) price
We do not grade the taverns listed here, each of its own is equally unique and all of them were selected from all accounts given at the end of the vacation season of 2010, chosen for the category "The most popular taverns"
Taverne "Votsalo" Taverne "To Posto" Taverne "Pitsolos" Taverne "Pathari" closed
new Taverne "KERI" im Facebook
Laganas: new Taverne "Blue Sea" - Italien Restaurant "La Bella Napoli"
Thanks for translation to Eva Drnek, Dr.Andrea Schekolin www.masnachhilfe.at!
Retour to House Marathia Retour to the entry