Taverna
"Pitsolos"
Limni Keri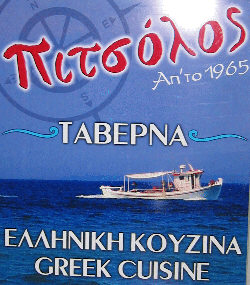 This is the only tavern in the harbor of Keri that stays open the year round. It is not astonishing that this tavern was selected among the most popular ones. The landlord is always willing to tell jokes, the meals are excellent and the kitchen is open to everyone and very clean. "Taverna Pitsolos" is the only tavern that exports its Moussaka to the Czech Republic - in the baggage of some of the Czech travellers a Moussaka from "Pitsolos" can be found. Advice: Of course Moussaka and the home-made Retsina from the wood.
Taverne "Votsalo"
Taverne "To Posto"
Taverne "Pathari"
Village "Laganas"
Italien Restaurant "La Bella Napoli"
new Taverne "Blue Sea"
Our guestbook for your feelings - DieBeliebtesten-Keri-Marathia